Welcome to the POST COMMISSARY Hardware Store!
We have been in business since 1858 -- since the founding of the State of Colorado -- serving our community's changing needs for six generations. When the Martinez family took over the business ten years ago, it still had the feel of the traditional "sutler" store which originally served settlers and military families at the remote garrison of Fort Garland. Today, thanks to our advanced electronics and automated inventory system, we offer best-quality products, leading brand-names, and great prices. We can Special Order whatever you need, if we don't have it, just ask. Welcome to our web site, but be sure to stop in for whatever you need. Matt and Bill Martinez are proud to offer you the best personal service anywhere in the San Luis Valley. The Post Commissary stocks about everything you can imagine, as Motherearthnews.com puts it "They stock every tool, building supply, and fishing product that a person might need."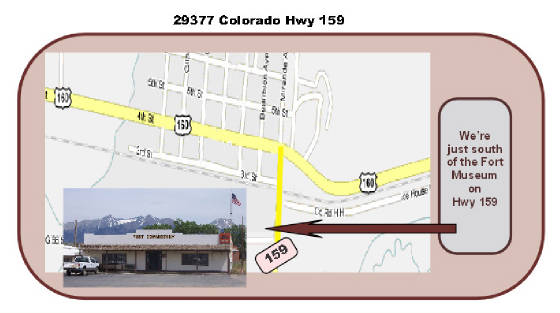 This web site provides a sampling of our products.
Click on the navigation bar to the left to review our lumber, hardware, plumbing and electrical supplies.
If you don't see what you need, just ask, or contact us
on the Special Orders page.
We look forward to doing business with you.
We accept the following credit cards:

We are proud to belong to